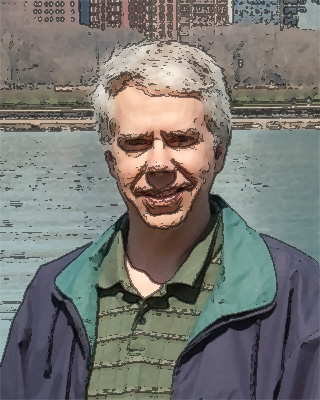 Ron Parish, the artist of this unique work of Catholic Eucharistic Art, has been working on the idea of the "Portrait of Our Lord" for several years. Having spent a holy hour with Our Lord in Eucharistic Adoration, praying in silence every Friday morning for over 16 years, an ever increasing belief in the Real Presence of Jesus has developed as well as a desire to share this belief with his fellow Catholics.
Ron used his skills in photography and computer graphic design to capture digital images of the Blessed Sacrament, as well as the other parts of the "Portrait of Our Lord", and combined them together to create the final Portrait as it appears today. Ron is a dad of 6 children which is the inspiration for the name he chose for his company, Adadx6 (a dad times 6), originally based in Omaha, Nebraska USA, and now located in Urbandale, Iowa USA. He was born and raised in the Omaha area but did not grow up in the faith. He entered the Catholic Church in February 1979, a day he says is one of the greatest of his life (though he did not know it at the time).
Ron offers this simple mission statement for his work - to help foster a stronger belief in the Real Presence of our Lord in the Eucharist, to help promote Eucharistic Adoration in all parishes and to introduce this unique work of art, the "Portrait of Our Lord", to every member of the Body of Christ throughout the world.
THE PORTRAIT OF OUR LORD IS A UNIQUELY CATHOLIC WORK OF EUCHARISTIC ART, THE FRUIT OF MANY YEARS OF EUCHARISTIC ADORATION, TESTIFYING TO THE REAL PRESENCE OF OUR LORD, JESUS CHRIST, IN THE BLESSED SACRAMENT OF THE HOLY CATHOLIC CHURCH.
Content Copyright 2010 - 2016 Adadx6 Images All Rights Reserved